How is SASSO improving the colored chicken market in Vietnam
There are few countries like Vietnam when it comes to the product expectations of purchasing chickens. Leg size, comb shape, feather color, general frame and taste: every criteria is precisely assessed by the customer.
Similar to France in terms of regional diversity, Vietnam offers a very wide range of local breeds. For every region its specialty: gà Ri, gà Tàu Vàng, gà Nòi, gà Đông Tao, gà Mía… chicken (gà) is eaten every day in the local soup "Phở". The quality of the meat is of top priority, which is why slow growth color breeds are so popular in this country (around 60 % of the chicken meat produced).
Generally speaking, the meat has to be firm, very tasty and strongly attached to the bones. This can be achieved by a very long rearing time for the broilers (sometimes more than 120 days) and by choosing the right breed.
Facing this market, SASSO offers Vietnamese local breeders several options to improve productivity and multiply the local breeds.
The first market segment is referred to as "color broilers", produced by imported parental stocks (PS) for both male and female lines. The efficiency of the SASSO breeds allows a quick growth (less than 60 days) for Vietnamese standards while keeping taste and rusticity in the broiler.
The second market combines the best of both breeds: the SASSO female PS, genetically recessive, puts its productivity at use to express the local male PS phenotype. This cross cannot work with each local breed because there are so many of them, but when it does the result is very positive. Particular selection work on the male lines may be needed to improve the quality of the progeny and its uniformity.
The third market, the most difficult to access as a foreign selection company, is the 100% local breeds' market. This market is known for its very long rearing time, the exceptional quality of its meat and the very precise phenotypical standards of its breeds. Being able to help breeders in this segment would mean tailor made selection which can only be conducted through strong partnerships and trials.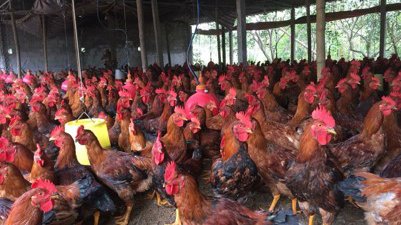 Over the past few years SASSO has been able to develop its customers market by constantly adapting its choice and its solutions. Small independent producer or big integrated company, each Vietnamese breeder takes pride into selling its own unique product. The defense of its customers brand has always been a priority for SASSO and so far with great success.
Despite the Covid-19 situation which has lowered the general chicken consumption, especially for high-quality products, SASSO is still closely working with its partners in Vietnam to find the chicken of tomorrow. As the market improves its offerings and becomes more and more competitive, it is important to always be one step ahead. Wet market development, FCR improvement, construction of phenotypical standards and of production labels… New challenges arise and SASSO will be with its customers to change once more the face of the colored chicken business in Vietnam.